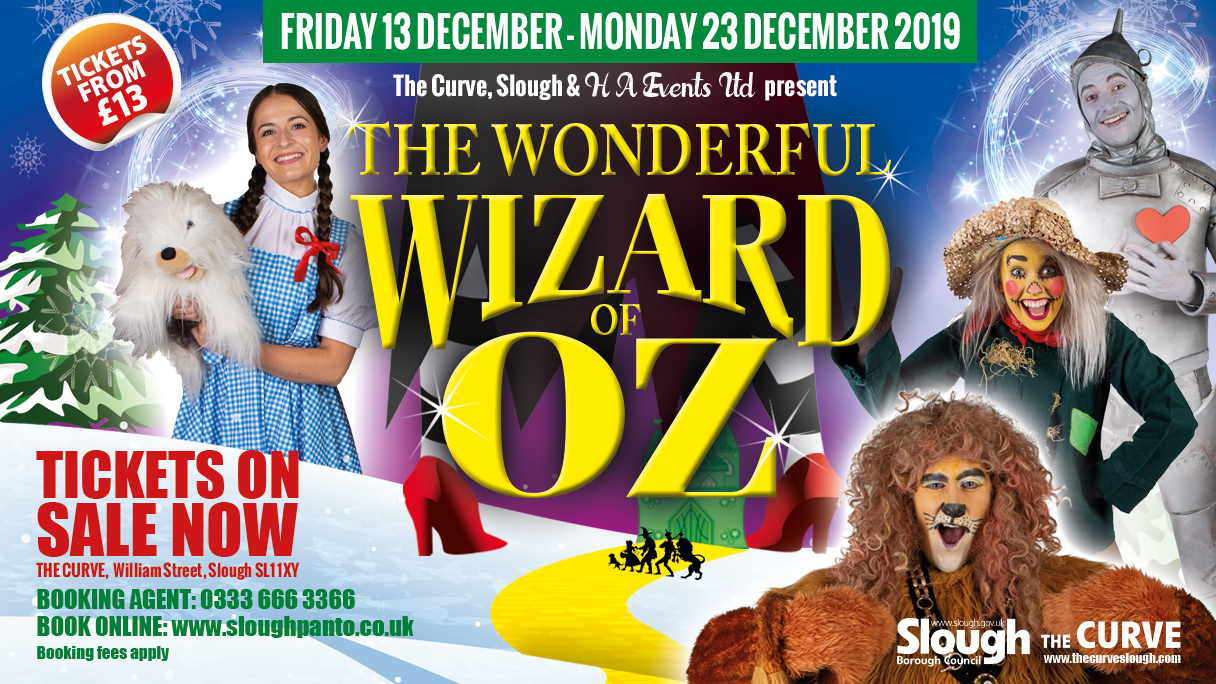 CLICK YOUR RUBY HEELS TOGETHER AND JOIN US OVER THE RAINBOW IN OZ FOR A MAGICAL PANTOMIME.
Fun for all the family as HA Events presents The Wonderful Wizard of Oz at The Curve, Slough.
It may be 80 years since the Wizard of Oz first captured our hearts, but the world's love for the fantastic L Frank Baum classic shows no sign of fading, and now at The Curve, Slough we present an exciting and innovative pantomime take on the Hollywood classic with a professional cast, for a whole new generation to enjoy.
Slough's favourite pantomime 'princess', Millie Jones, stars as heroine Dorothy who finds herself whisked somewhere over the rainbow to the magical Munchkin Land by a Kansas cyclone.  In her quest to Meet the Wizard and find her way home, Dorothy meets some new friends along the way; Scarecrow, Tinman and Lion, plus a few new faces!
Expect plenty of audience participation, high energy dancing, bundles of comedy and fantastic costumes as they try to defeat the Wicked Witch of the West.
Will Dorothy and her friends manage to reach the fabled Emerald City? Can she meet with the Wizard himself? Can she escape the evil clutches of the Wicked Witch of the West?  Book your tickets now to find out!
Running from 13th – 23rd December, The Curve, Slough, this is a festive treat that no family should miss.
Book tickets online at www.sloughpanto.co.uk or call 0333 6663366